Karcher Vacuum cleaner
Special accessories for cleaning different floor coverings and upholstered furniture
The Karcher WD Vacuum Cleaner is a powerful mind blowing machine that is energy – efficient. when it comes to dirt, the multi-purpose vacuum cleaner will always remove any kind of dirt immaculately, thanks to the newly developed suction hose and the innovative clips floor nozzle. The WD 2 Home multi-purpose vacuum cleaner is a powerful and energy efficient household vacuum cleaner. With a special filter system and special accessories for optimal cleaning around the home. Accessories can be attached directly to the suction hose due to the detachable handle. The practical parking position allows convenient parking of the suction tube and floor nozzle when taking a break from work. The equipment package for the WD 3 Premium is completed by the blower function, "Pull & Push" locking system, ergonomic carrying handle and a practical cable and accessory storage system.
With a very low power consumption of 1,000 watts and, at the same time, high suction power, the WD 2 Home multi-purpose vacuum cleaner is the ideal vacuum cleaner for household use. Thanks to a special filter system, it keeps on going over dry dirt, water and broken glass, reliably collecting everything in a rugged, shock-proof 12-litre plastic container. The switchable floor nozzle is suitable for thoroughly cleaning carpets as well as hard floors. Upholstered furniture can be gently cleaned using the upholstery nozzle. Because of its compact size, the WD 2 Home household vacuum cleaner is also easy to store and requires minimal storage space. And of course, the vacuum cleaner is equipped with the familiar equipment features and standard accessories of the tried and tested Kärcher multi-purpose vacuum cleaner range.
Benefits
Multi-purpose vacuum cleaner WD 3: Special cartridge filter
Special cartridge filter
For wet and dry vacuuming without filter replacement. Multi-purpose vacuum cleaner WD 3: Optimally developed: Floor nozzle and suction hose
Optimally developed: Floor nozzle and suction hose
For the best cleaning results – whether dry, wet, fine or coarse dirt. For maximum vacuuming convenience and flexibility. Multi-purpose vacuum cleaner WD 3: Removable handle
Removable handle
Different nozzles can be directly attached to the suction hose. For easy vacuuming – even in confined spaces.
Specifications
| | |
| --- | --- |
| Actual suction power* (Air watts) | 200 |
| Energy use (W) | 1000 |
| Container capacity (l) | 17 |
| Container material | plastic |
| Standard accessory ID (mm) | 35 |
| Current type (V/Hz) | 220 - 240 / 50 - 60 |
| Weight without accessories (kg) | 5,5 |
| Dimensions (L × W × H) (mm) | 388 x 340 x 503 |
| -- | * Measured at the suction tubes according to the IEC 60312 standard. |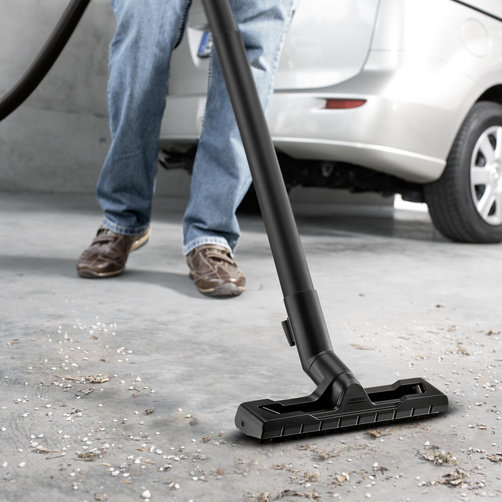 The Karcher brand has come to stay in the Nigeria Market. This brand is among one of the most trusted German brand, and because of its equinity and originality, that is why they decided to introduce this machine in Nigeria to help make cleaning more easy and interesting.  
Visit us today to see different varieties of the Karcher product