FLOOR SCRUBBERS & INDUSTRIAL FLOOR CLEANING MACHINES
Kärcher floor scrubbers are the perfect tool for your floor maintenance program. Not only do they increase worker productivity, our quick-cleaning floor scrubbers allow for lower labor costs, they help reduce the number of slip and fall hazards, and they make your floor surfaces looking pristine and clean. With our wide assortment of compact and mid-size walk-behind scrubbers along with our ride-on floor scrubbers, you are sure to find the right tool for your job.
Which Floor Scrubber is Right For Me?
When it comes to cleaning, no job is too big or too small for Kärcher scrubbers. Click the links below to learn more about each of our floor scrubber categories and find the equipment that meets your unique cleaning challenges.
Walk-Behind Compact Floor Scrubbers
Compact floor scrubbers are ideal for daily scrubbing of areas up to 15,000 square feet per hour. Award winning and innovative design provide you with the best in daytime cleaning.
BD 30/4 C Bp
BR 30/4 C
BR 35/12 C Bp Pack *UL
BD 38/12 C Bp
BR 40/10 C Adv
BR 45/22 C Bp
View All
Walk-Behind Floor Scrubbers
Walk-behind floor scrubbers are the most diverse of the scrubber line-up. These innovative floor scrubbers are ideal for cleaning medium to large areas up to 28,000 square feet per hour efficiently.
BD 43/25 C Bp + Pad
B 40 W Bp with ORB
B 40 W Bp
BD 50/50 C Classic Bp
B 60 W Bp (disc)
B 60 W Bp (roller)
BD 70/75 W Bp Classic
B 80 W Bp (disc)
B 80 W Bp (roller)
BD 80/100 W Bp Classic
View All
Stand-On Floor Scrubbers
Stand-on floor scrubbers increase productivity by fifty-percent when compared to walk-behind machines. No matter what your cleaning need is, we have a stand-on scrubber that can fit your job.
Chariot™ 2 iScrub 20
Chariot™ 2 iScrub 20 Deluxe
Chariot™ 2 iScrub 20 Deluxe with ORB
Chariot™ 2 iScrub 22 SP
Chariot™ 3 iScrub 26
Chariot™ 3 iScrub 26 SP
View All
Ride-On Floor Scrubbers
Ride-on scrubbers offer the most cleaning power and comfort. Designed for industrial use, these robust machines are capable of cleaning up to 64,500 square feet per hour.
BD 50/70 R BP (brush)
BD 50/70 R BP (pad)
B 75/110 R Bp
B 150 R Bp
B 250 R Bp
B 300 R I
View All
What is a Floor Scrubber?
Kärcher floor scrubber thoroughly remove dirt, dust and residues from hard floors in a single pass leaving surfaces instantly dry, clean and safe. From maintenance cleaning to deep cleaning, polishing and even stripping, a Kärcher scrubber delivers outstanding cleaning performance, every time, improving health and safety in your business while increasing cleaning productivity.
Cylindrical vs Disc Brush Heads
Whether you're removing multiple scuff marks or want to eliminate dirt from grout, Kärcher floor scrubbers are available with two different brush heads. Discs work best on smooth floors, whereas roller brushes create up to 10 times more down-pressure to provide a deeper clean.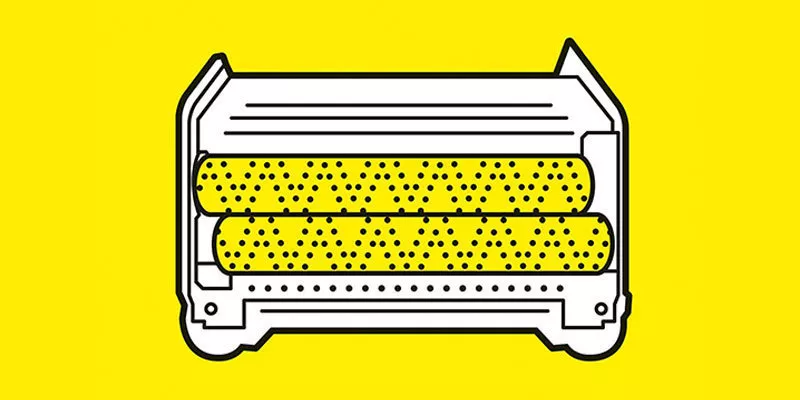 Cylindrical Brush Heads
Floor scrubbers with cylindrical brushes are particularly suitable for extensive, thorough cleaning of your structured and heavily soiled floors, thanks to their high brush speed and contact pressure. This brush head technology also has great advantages when there is coarse dirt. Particles are picked up by the counter-rotating rollers and fed to a coarse dirt container.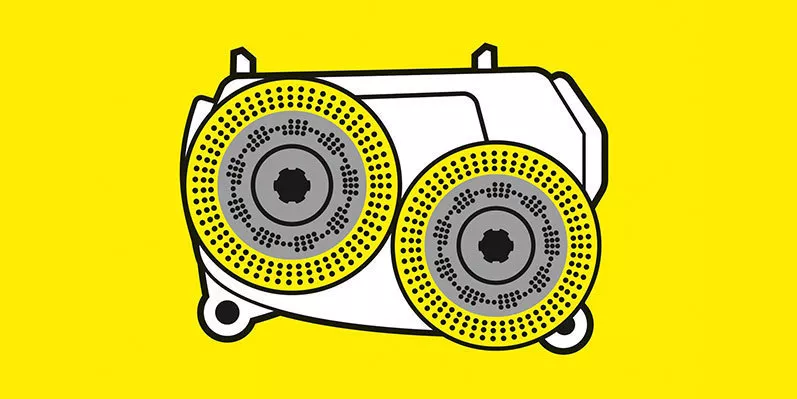 Disc Brush Heads
A floor scrubber with a disc brush head is generally used for routine cleaning and for lighter soiling. This floor cleaning machine is a great option for smooth floors and in noise-sensitive areas, including hospitals, hotels and restaurants.
Innovative Cleaning Equipment Technology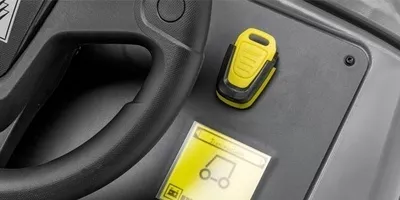 Protection against incorrect use
Prevent machine misuse, keep familiarization time for the user to a minimum, and ensure optimum cleaning efficiency with Kärcher's Intelligent Key* system (KIK) which enables machine speed, brush pressure, and water and detergent dosing to be pre-set to each operator.
Simple and safe operation
Choosing the right cleaning program is simple thanks to the EASY!Operation panel. The clear, at-a-glance view via pictograms makes it easy for anyone to use the machine, reducing the need for training and removing any language barriers.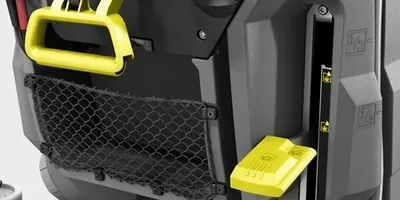 Every touch point color-coded for ease of use
Users can quickly see what is relevant to them thanks to the color-coded access elements on the machine. This makes using and maintaining the machine simple: yellow for the operator, gray for the service technicians.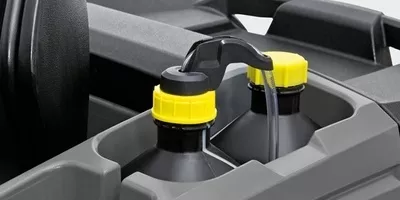 Save money and be more environmentally friendly
Manual calculations of how much detergent to use are no longer necessary with our Dose* system which automatically and precisely meters the correct detergent quantity from the on-board bottle into the clean water.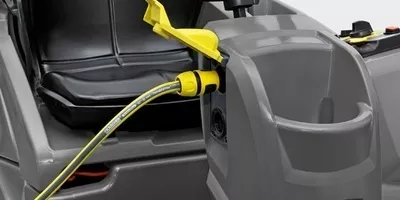 Increased productivity through innovation
Auto-Fill* means you can simply connect the machine to the water supply and let it automatically stop when the tank is full, freeing up your operators' time. Tank-rinsing ensures that the machine is quickly and effectively cleaned after use with the operator having no contact with dirty water.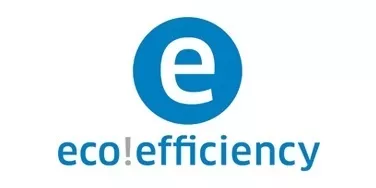 Reduce water and detergent usage
Achieve more for less with Kärcher's eco!efficiency mode which reduces energy, water and detergent consumption. Minimize wear and tear on the machine and lower noise levels, all at the turn of a button.